Bingo Love Receives Virginia Library Association's Graphic Novels Diversity Award

The Diversity & Inclusion Forum of the Virginia Library Association presented their annual VLA Graphic Novel Diversity Award ceremony. The award was created to recognize graphic novel titles dealing with diversity through storylines and characters to educate and promote reading at all levels. To be eligible, applicants must feature "a diverse protagonist (casual or issue-based), a diverse supporting character that impacts the story, or a diverse subject," be published in the award year in North America, have a stand-alone story and be submitted in either the Adult (18+) or (Youth 6-17) category.
This year, Image's graphic novel BINGO LOVE was the recipient of the adult category for this prestigious award. To see all the winners and honorees, see below.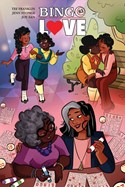 ADULT CATEGORY WINNER - BINGO LOVE
When Hazel Johnson and Mari McCray met at church bingo in 1963, it was love at first sight. Forced apart by their families and society, Hazel and Mari both married young men and had families. Decades later, now in their mid-'60s, Hazel and Mari reunite again at a church bingo hall. Realizing their love for each other is still alive, what these grandmothers do next takes absolute strength and courage.
From TEE FRANKLIN (NAILBITER's "THE OUTFIT," Love is Love) and JENN ST-ONGE (Jem & the Misfits), BINGO LOVE is a touching story of love, family, and resiliency that spans over 60 years.
YOUTH CATEGORY WINNER - MEAL
Yarrow is a young chef determined to make her mark on the cutting edge of cookery with her insect-based creations. Though her enthusiasm is infectious, it rubs some of her fellow cooks the wrong way, especially Chanda Flores, Yarrow's personal hero and executive chef of an exciting new restaurant. Her people have been eating bugs for centuries, and she's deeply suspicious of this newbie's attempt to turn her traditions into the next foodie trend. While Chanda and her scrappy team of talented devotees struggle to open on time, Yarrow must win over Chanda -- and Milani, the neighbor she's been crushing on for weeks -- or lose this once-in-a-lifetime opportunity to achieve her dreams.
Co-written with chef and food writer Soleil Ho (Edible Manhattan, Bitch), Blue Delliquanti's sweet coming-of-age story takes us deep into a world of art, mystery, and memory on the culinary frontier.
---
Other honorees of the VLA Graphic Novel Diversity Award include the following titles:
My Brother's Husband, Volume 2 by Gengoroh Tagame
Published by Pantheon

Dumb: Living Without a Voice by Georgia Webber
Published by Fantagraphics Books

Puerto Rico Strong by Various Creators.
Published by Lion Forge

Amla Mater by Devi Menon.
Published by Yali Books