Mister Invincible
Published by: Magnetic Press
Written by: Pascal Jousselin
Illustrated by: Pascal Jousselin
ISBN: 9781942367611
Ages: 9+
Review
MiSTER iNViNCiBLE is indeed a one of a kind, true superhero. Whether he is chasing down a thief, outsmarting a mad scientist, or fighting the evil Jester, MiSTER iNViCiBLE's greatest superpowers are his words and forethought.
To begin, MiSTER iNViNCiBLE is well aware that he is a comic book superhero! He knows how comic books are created. Knowing that comic books rely on sequential art, for example, MiSTER iNViNCiBLE uses this knowledge to think ahead and backwards. Panels, speech balloons, and gutters are three of the most basic formatting terms for comic book stories. Knowing this traditional format, MiSTER iNViNCiBLE uses his superpowers to break these bounds of traditional comic book rules. Whether he is moving backwards or forwards in order to save the day, MiSTER iNViNCiBLE is able to think creatively about how to solve crimes and support his community.
Thanks to the unique magic of comics, MiSTER iNViNCiBLE not only saves the day, but also breaks traditional comic book storytelling boundaries. In short, MiSTER iNViNCiBLE is clever enough to be both a superhero and a groundbreaking storyteller.
Language Arts Elements of Story
Plot: MiSTER iNViNCiBLE strongly believes in the sometimes magical, sometimes ironic power of comics. Literally.
Settings: Grandville, museum, MiSTER iNViCiBLE's home, boat, Gram Gram's house, Bocce Ball Court, Mayor's stage, market, Mayor's Office, jail, news station, little island, the arctic, city park, subway station, mountains, space
Key Characters: MiSTER iNViNCiBLE, widow, orphan, kitty, elderly lady, police, Marathon Mike, Killer Robots, Gram Gram, Mr. Mayor, Old Grandpa Jack, Police Captain Jean-Pierre, Mad Scientist, Combat Robot, Two-Dee Boy / Fabrice, RiKTER 3000, CEO of Pestichem, the Jester, Mr. Dewtilly, Albert, Commander, Lily, polar bear, thief, Detective Dacier, the mysterious lady, Mrs. Sigourney, Mr. President, General Beefsteak, Pipistrelle, Rapidus, Chromaline, Spike, martian
Major Themes: Storyboarding and Format, Problem-solving, Words and Images, Heroism, Science
Lesson Plan Recommendations Using the Common Core Standards
Writing: Text Types and Purposes
Write narratives to develop real or imagined experiences or events using effective technique, relevant descriptive details, and well-structured event sequences.
* The number(s) referenced above corresponds to the number used by the Common Core Standards (www.corestandards.com)
Lesson Plan
Twenty-first century librarians and educators are pretty well aware of the popularity of comic books and graphic novels to enhance reading comprehension. Embraced more and more each year by schools and libraries around the world, reading comic books and graphic novels are proving that they actually provide a more diverse reading experience that activates two types of intelligences: visual-spatial and verbal-linguistic (Gardner, 1983).
While teachers and librarians continue to learn about scholarly publications about teaching reading with comic books and graphic novels, there is a significant need for more scholarship that discusses teaching writing with comic books and graphic novels.
MiSTER iNViNCiBLE highlights both a traditional approach to writing in comic book format alongside some clever and new approaches to writing in comic book format. Jousselin's MiSTER iNViNCiBLE specifically calls on young writers to rethink how they can use panels, gutters, and speech balloons to tell comic book stories.
Before reading, ask students to share what they know about comic books and graphic novels and how to read them. Record and discuss student responses.
Next, introduce students to either a selection or the entire collection of Jousselin's MisTER iNViNCiBLE. Walk the class through the first MiSTER iNViNCiBLE comic book story of choice, and ask them to discuss what is similar and/or different to what the class recorded and discussed before reading. Update the record of student responses to include their new thoughts on similarities and / or differences in the storytelling.
Students should then be encouraged to read a few MiSTER iNViNCiBLE comic book story selections on their own and take notes on how the stories were told, again noting both similarities and / or differences.
After students have read a few selections and added to their own notes on how Jousselin embraces and redefines traditional comic book storytelling, ask them to write and draw their own MiSTER iNViCiBLE story. Student stories must include examples of traditional comic book storytelling alongside examples of innovative comic book storytelling, like those they found in MiSTER iNViNCiBLE.
---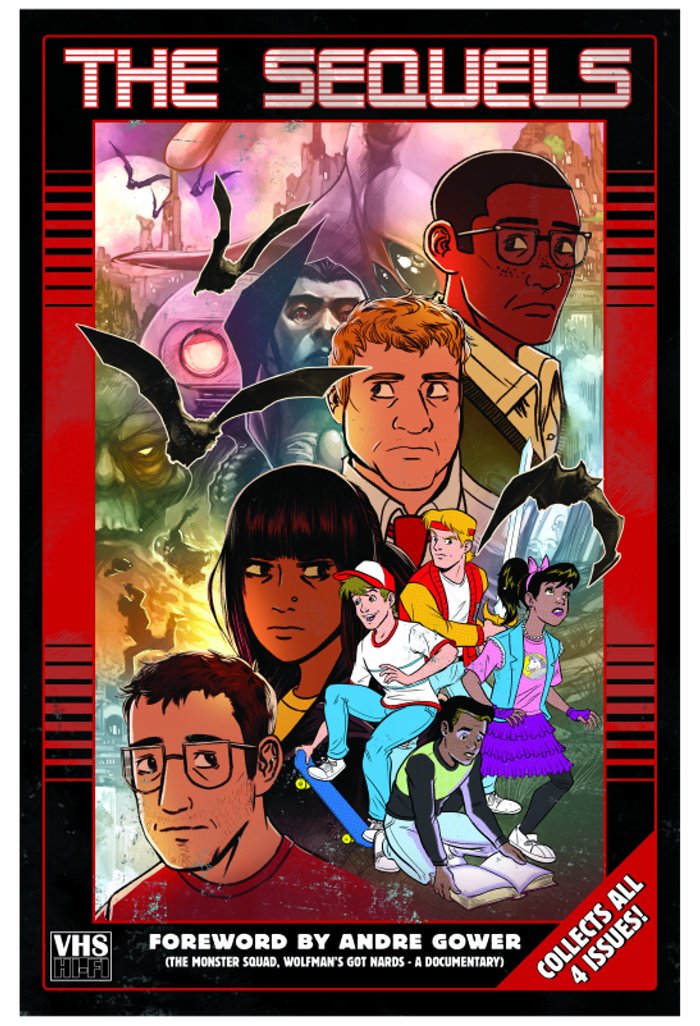 The Sequels
Published by: Fanbase Press
Written by: Norm Harper
Illustrated by: Bobby Timony
ISBN: 9780998797953
Ages: 13+
Review
"Decades ago, we all touched something bigger than ourselves and then had it yanked away.
This is our chance to touch that magic again. Our change at a, uh . . . . . .
a sequel an in-real-life sequel."
Fanbase Press' The Sequels is a tour de force of time and travel for Gwen, Dakota, Avery, and Russell. As children in the 1980s, each of them experienced a unique and tremendous adventure that seems unbelievable.
Many years later, as adults, each of the four main characters are invited to meet up at what seems to be "A group of other peopler who've had adventures. And they wrestle with the end of those adventures, just as you wrestle with the end of yours." While Avery accidentally hit a baseball over the fence of a top-secret military facility and found a robot named Ollie, Russ met up with a bunch of monsters in his high school gymnasium on Halloween night. Russ even claims to have defeated Dracula! Gwen's adventure marks the first time a human made contact with alien life. And Dakota? Well, he saved imagination after being transported by a book to a magical world.
While each character explains his or her adventure, it becomes pretty obvious that they each have one thing in common; none of the characters experienced a sense of closure during their adventures. Each of them wrestles with how their childhood adventures ended, or, it seems to some, didn't end at all.
As they learn about each other's childhood adventures, the four adults wish to rekindle what might have been, sequels that might help each of them find the closure they so desperately sought as children.
Language Arts Elements of Story
Plot: In the 1980s, four children experienced life-changing adventures. Years later, as adults, the four end up in a support group suggested to them by a mysterious man. As they begin to share their stories they begin to suspect that their adventures might be related, and that all four of them feel little closure from their earlier adventures.
Settings: The Past & Present; 1986; Spokane, WA; Exotech, Alien Planet, Van Allsing High School, Frankenstein's Lab, Magic Land
Key Characters:Avery, Gwen, Russell, Dakota/Scratch, Ollie, Exotech personnel, Buddy / K'neth Carr Tra'Vanoo, Evil Alien, Principal Dekker, Dr. Victor Frankenstein, Vlad, Igor, Dorble, Fear-monger
Major Themes: Identity, Change, Adventure, Past and Present, Wishes, Stories, Inspiration

Lesson Plan Recommendations Using the Common Core Standards for High School Readers
Writing: Presentation of Knowledge & Ideas
Integrate multimedia and visual displays into presentations to clarify information, strengthen claims and evidence, and add interest.
* The number(s) referenced above corresponds to the number used by the Common Core Standards (www.corestandards.com
Lesson Plan
After reading, ask students to form into four groups. Once students are in their groups, assign them one of the four main characters in The Sequels.
Offer student groups some time to review their assigned characters' unique childhood adventure and their adult role in finding closure to the united stories. Once students have reviewed their characters' unique role in The Sequels, give them at least 2 - 3 class periods to work in their groups to prepare a multimedia (both textual and visual) presentation that hyper focuses on their character's unique role in the story, offering clarifying information, strengthening their character's claims and evidence. Student presentations can be informational or a creative reenactment.
********************
Dr. Katie Monnin is the author of eight books about teaching pop culture, comic books, and graphic novels in 21st century classrooms. Since 2010 she has written two monthly reviews and two corresponding lesson plans for her Diamond Bookshelf column: "Katie's Korner: Graphic Novel Reviews for Schools & Libraries." In 2018, Dr. Monnin founded "Why so serious? Productions," a consulting business that creates pedagogical materials for 21st century teachers, librarians, and publishers who want to teach pop culture. She served on the San Diego Comic Con jury in 2013, and she frequently travels the nation and the world to discuss teaching with pop culture in 21st century classrooms.